Scroll down on this page for more information about...

Historical Walking Tour of Harpers Ferry, WV

(Bad Weather Alternatives)
"O' Be JoyFull" Biography


Click on "Songs & Stories Shows" tab for more information about...

My unique, entertaining, educational, and highly acclaimed...
Historical Songs & Stories Concert Shows


Plus, I now also conduct the oldest Ghost Tour in America! Circa. 1970! This year we are celebrating 50 years of Ghost Tours/Stories in Harpers Ferry!

Ghost Tours of Harpers Ferry
*Also Open Year Round!*

Rated the #1 Tour in Harpers Ferry, WV, on www.TripAdvisor.com!

My Ghost Tour is also rated as the # 1 Ghost Tour in America by TripAdvisor.com! (Based on customer reviews!)

Check it out at: http://multivu.prnewswire.com/mnr/tripadvisor/42931/


More Ghost Tour information is available at...

www.harpersferryghost.20m.com

(Four years ago, "O' Be JoyFull" Historical Tours & Entertainment acquired the oldest Ghost Tour in America, "Ghost Tours of Harpers Ferry," in business for almost forty years (circa. 1970)! Please click on the link above for more information about nightly Harpers Ferry Ghost Tours.)

Public Speaking Engagements
Rick is available for speaking engagements at libraries, schools, civil war round tables, etc., on the history of Harpers Ferry, WV and John Brown's raid, as well as for Harpers Ferry's Ghost Stories.

Rick is also available as a "Step-on" guide for Tour Bus Groups.



Historical Walking Tours of
Harpers Ferry, WV

Scroll down on this page for a detailed description!

*Note: Tours are conducted all year round!*
***Please call for reservations.***
In cold or inclement weather, the entire Harpers Ferry Tour has been thoroughly enjoyed by happy "O' Be Joy"Full" customers inside, in the sanctuary of St. Peter's Roman Catholic Church!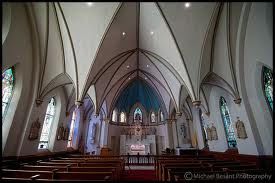 That's right, a number of visitors to Harpers Ferry, who didn't want to miss out on all of the wonderful history and historical stories, but who also did not want to venture out into the cold or inclement weather, have thoroughly enjoyed all of the same great Harpers Ferry historical stories, while also viewing historical pictures of the same walking tour historical sites, but in the warmth of the sanctuary of the also historical St. Peter's Catholic Church!

Or, for those hearty people who'd like to venture out, regardless of the weather, the tour's introduction will begin inside, followed by a series of short walks outside to see Harpers Ferry's historical sites. We will then retreat back inside every few minutes, as needed, to keep warm.


The 3 1/2 to 4 Hour Harpers Ferry Tour leaves from: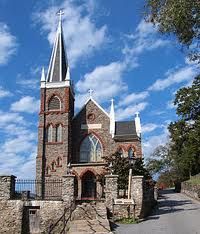 Thomas Hall at St. Peter's Church
(Church Social Hall/Rectory)

(Directly behind the Church)

110 Church Street, Harpers Ferry, WV.
(732) 801-0381

Tours available by reservation only
Monday through Saturday
Starting anytime between
10:00 AM through 3:00 PM


Available on some Sundays
At 2:00 PM

***Please call for reservations***
or email to:
RickGMail@comcast.net
(Call to request other starting times!)

$36.00 per person, 8 to 12 years old $15.00
(Cash and checks gladly accepted.)

***Please call for reservations or more information!***

(732) 801-0381
or Email me at: RickGMail@comcast.net


HOW TO GET HERE:
DO NOT count on your GPS system to correctly get you to Harpers Ferry! Many GPS systems simply do not work properly here! People have totally missed getting here by blindly following only their GPS system. It is best to check Mapquest.com or Google.com/maps for directions! (Here's a link to MapQuest.com: http://www.mapquest.com/

IMPORTANT NOTE ON DIRECTIONS: It has recently come to our attention that MapQuest.com, Google.com/maps, and/or some GPS systems are incorrectly routing/directing people to take Bakerton Road to arrive to the Potomac Street Train Station, which is wrong and which ends in a DEAD END road, and with no access to Harpers Ferry or the Train Station.

Only enter Harpers Ferry by either N. Washington Street, Union Street, or Shannendoah Street. DO NOT TAKE BAKERTON ROAD.


Parking Options:

1. Amtrak Train Station
120 Potomac St., Harpers Ferry, WV, 25425


2. On-The-Street, Pay-By-The-Hour Parking (via your cell/smart phone) along Potomac St. and/or along Washington St., Harpers Ferry WV, 25425
3. National Park Visitor Center
(1 & 1/2 miles away, a shuttle bus ride then brings you over to Historic 'Lower Town.')
171 Shoreline Drive, Harpers Ferry, WV, 25425



-----------------------------------------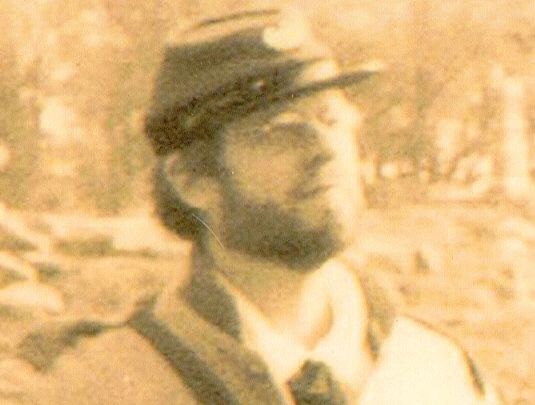 ***Rick is also available as a Tour Bus Step-on Guide!***

Rick has also been a featured speaker and or performer for Civil War Round Tables.

Call or Email for more information and availability.
-----------------------------------------------------------------
Detailed Description of...

The Harpers Ferry, WV Tour...
"O' Be JoyFull's"TM Historical Harpers Ferry Town Tour is a walking tour that tells of the unique and multi-layered history and story of Harpers Ferry, WV, from its first settlement and founding, its Thomas Jefferson and George Washington history, its industrial development, including the


establishment of America's 2nd National Armory, at the insistence of President Washington, as well as the development of "The American Method of Manufacturing," which revolutionized the entire world's manufacturing processes, to Harpers Ferry's involvement in the building of the world's very first collapsible boat, and the world's first successful steamboat!


Also told is the story of John Brown's infamous raid in 1859, which is now officially considered to mark the beginning of America's Civil War, as well as its American Civil War history, including Confederate General Thomas "Stonewall" Jackson's capture of the town in September of 1862, which resulted in the largest number of Federal Soldiers captured during the entire Civil War!

Of course, being located
at the confluence of two mighty rivers, the Potomac (Pawtomack) and the Shenandoah, Harpers Ferry's history includes numerous large floods,which ultimately ends the commercial viability of the town. This eventually results in a large part of Harpers Ferry being purchased and now run by the National Park Service after President John F. Kennedy designated Harpers Ferry a National Historic Park.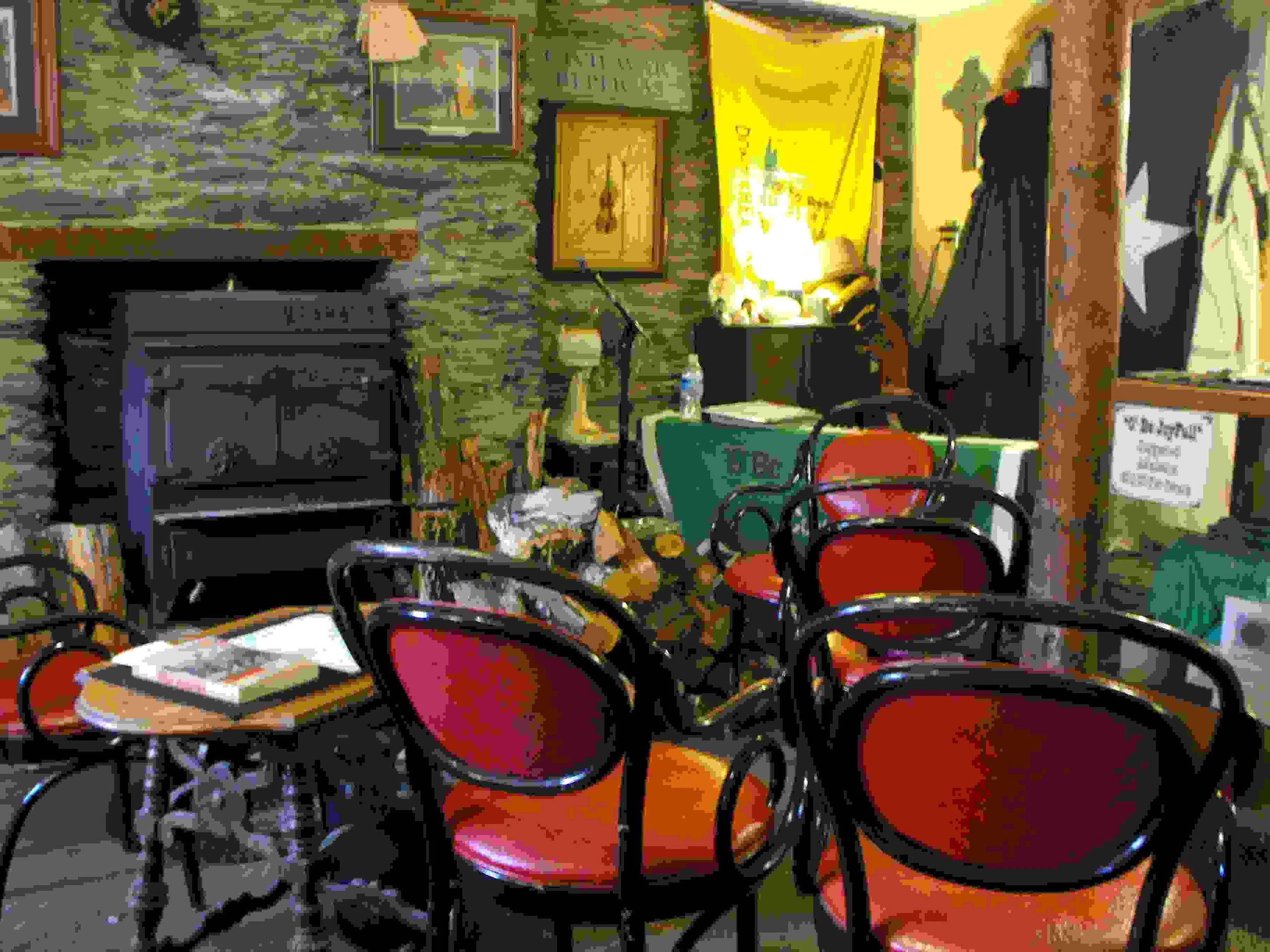 Your tour begins in 'Thomas Hall,' (circa 1858), the social hall of St. Peter's Church, with an introduction to the history of Virginia and its early exploration, leading up to the story of Harpers Ferry's first settlers.

You'll then casually walk along Harpers Ferry's historic streets, while enjoying its unique scenery, architecture and great stories, as you also view historic sites and pictures. There are numerous stops where you can sit and rest, including the historic sanctuary of Saint Peter's Catholic Church, A National Landmark building, and the only tour that takes you inside this beautiful house of worship, all helping to bring into focus the incredible Harpers Ferry Story for you!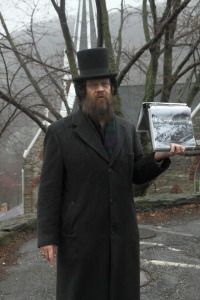 Rick Garland, who conducts the tour in authentic 19th Century cloting, also includes the true stories of the real, everyday people, who both made and witnessed "The Harpers Ferry Story," in a manner that brings its fascinating history to life for you!

Note: It is not a tour for the historically faint of heart, or those who are interested only in the standard, watered down, 'Politically Correct' narrative of American Historical Events.

A number of 'Old Time Pictures' are shown because approximately 70% of 'Historic Lower Town' is no longer there, being either destroyed by The American Civil War, washed away in Floods, or burned away as a result of Fire.

Therefore, the overall tour could be considered to be a little more 'Story & Picture Intensive,' than 'Site Intensive,' because so many of the sites are simply no longer in existence.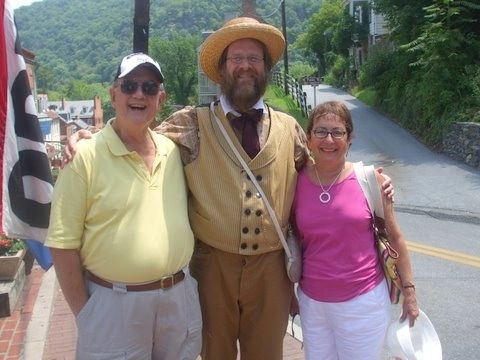 "We had no idea how much history there is in Harpers Ferry...I prefer taking tours to reading books and your tour is really great...you really make the history of Harpers Ferry come alive!"...Courney & Chris, Syracuse, NY.

"Thanks so much for the great tour you did for my group! Despite the rain and chill, they were fascinated and many people commented on it later. I wrote a review on TripAdvisor.com to accompany the many other glowing reviews. I'm so glad we found you!"...Marion, www.AdventuresinGoodCompany.com.

You can check out a lot more "O' Be JoyFull" reviews on the "Customer Comments" page of this website!

All Tours are Puppy & Dog Friendly!



Bad Weather Alternatives

Whether you are already here in Harpers Ferry, or on your way, or even if you are still at home pondering a visit to "The Ferry," you never have to let bad weather stop you from enjoying your time here, or interrupt your plans!

Why? Because Thomas Hall and Saint Peter's Church is the perfect place to spend some real quality time in Harpers Ferry during any kind of inclement weather!

Just imagine sitting in the indoor sun room of Thomas Hall, overlooking the Shenandoah River and 'The Gap,' as well as in the beautiful and historic santuary of Saint Peter's Church and enjoying either a guided tour like historical presentation of "The Ferry's Story," complete with historical pictures, or experiencing a rousing "O' Be JoyFull" Historical Songs & Stories Concert Show!

By visiting Thomas Hall and Saint Peter's Church you can still enjoy a historically entertaining experience during any type of bad or incement weather, while also making your visit to "The Ferry" an especially unique and memorable one!

So don't let bad weather keep you from having a good time while you're visiting Harpers Ferry, or prevent you from visiting us, instead just head in for a historically good time! Any time!!!
"O' Be JoyFull" Bio

After playing piano for over 20 years for his own enjoyment, Rick began performing historical songs and telling historical stories on a volunteer basis at The Longstreet Living History Farm, Holmdel, NJ, in 2001.

In 2003, Rick made his first appearance in Gettysburg, PA, first with an Irish, and then with an American Civil War Sing-A-Long Songs & Stories Show, under the name of "O' Be JoyFull," which is a civil war soldier's nickname for moonshine whiskey.

Six years later, and after a life-long interest and study of 19th Century American Cultural History, and more recently the American Civil War and the Battle of Gettysburg, PA, Rick had developed numerous historical sing-a-long musical programs, combining historical songs & factual stories of American Cultural History, the American Civil War and the Battle of Gettysburg, as well as the Irish and the Scottish peoples.

Rick became a part time Licensed Gettysburg Town Guide in the spring of 2006, upon completion of a highly specialized testing procedure. Since then, Rick has successfully branched out on his own and developed a full time business as a Licensed Tour Guide, offering historical guided tours of both Gettysburg, PA and Harpers Ferry, WV, where his tour & historical concert company is now located.

Rick has performed at numerous and various venues including schools, museums, churches, civil war re-enactments & events, civil war round tables, county fairs, Irish festivals, special fund raising events, club meetings, assisted living & nursing care facilities, birthday parties, organizational and corporate luncheons, as well as at inns, hotels, bed & breakfasts, restaurants and pubs in many eastern States of the U.S., including Connecticut, Vermont, Massachusetts, New York, New Jersey, Delaware, Pennsylvania, Maryland, West Virginia, and Virginia.

Most recently, Rick has appeared as a "Speaker" at Civil War Round Tables and Libraries, speaking about the history of Harpers Ferry, WV and John Brown in a program entitled, "Hapers Ferry & John Brown Revisited.
Historical Town Tours